UltraSite Systems is a manufacturer of Park Amenities, Outdoor Athletic Equipment, Preschool Equipment, and Accessible ADA Picnic Tables, Park Benches, and Bleachers.


• Our thermoplastic line of tables, benches and trash receptacles has been expanded and is an excellent example of our commitment to manufacture the finest "state-of-the-art" products available.
• UltraSite now delivers pressure treated wooden products with ACQ, a more "environmentally friendly"
product.
• UltraSite also provides 100% recycled plastic lumber for many applications.
• The steel products used in our line are supplied by Allied Tube which delivers the industry's finest protective coating.
UltraSite further enhances the durability by applying a superior powder coated paint.
Please compare UltraSite to its competitors. You won't be disappointed…
WEBCOAT, Inc., has been manufacturing long lasting, corrosive resistant outdoor tables and benches for more than twenty years. Combining this experience with using high strength steel fabrication and the newest technologies of thermo-plastic coatings has continuously given WEBCOAT the edge over all competition. WEBCOAT offers more than 1,000 products in different styles with an array of color choices. Our many styles and frame configurations of picnic tables and benches will allow you to obtain the distinctive look you desire for your outdoor eating and seating areas. When you furnish your areas with WEBCOAT, you are installing the most maintenance free furniture available.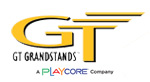 GT Grandstands is a leading designer/manufacturer of grandstands and bleachers for all applications of spectator seating. We offer a wide range of standard products to meet all of your seating needs. If a standard design does not meet your special needs, we can custom build your seating to meet your exact requirements. All of our products offer outstanding quality at a very competitive price.